Hey Penguin: Running on Startup, a ridiculously generous message from a grandmother, a preview of my conversations with Jamie Russo and Uri Bram
Week of October 12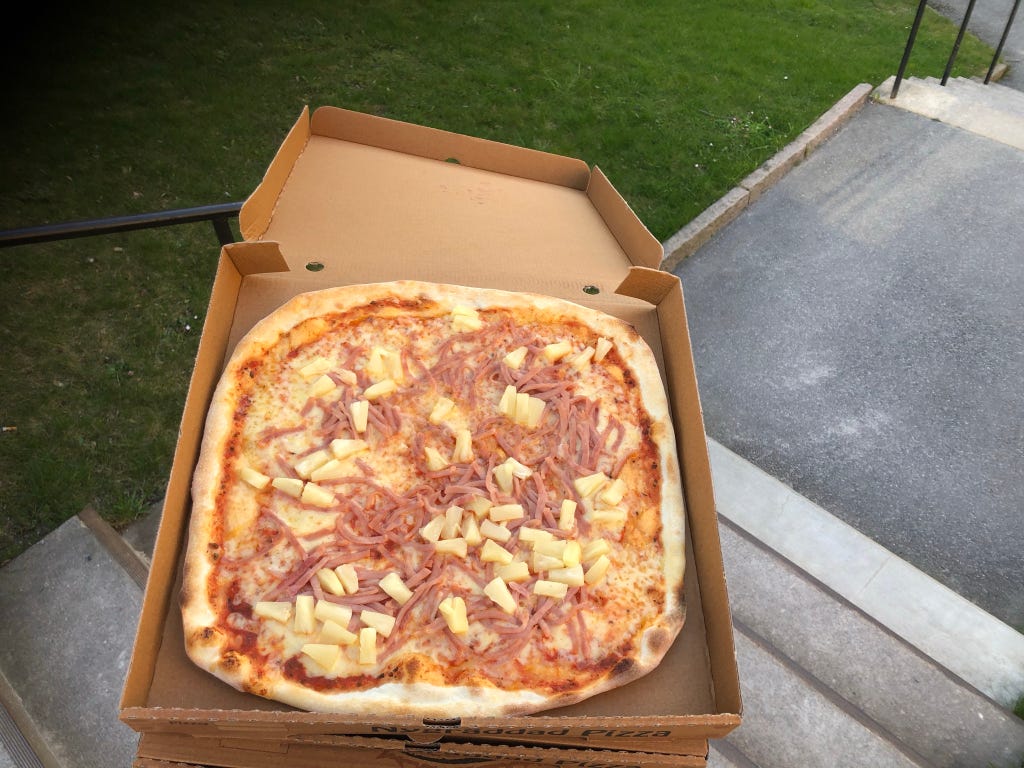 Square Pizza from Poor Bjorn's Rejection Experiment. As you can see, the pizza place accepted his request for a square pizza. Did the experiment fail? Who cares - it's a square pizza.
Hello and welcome to another issue of Hey Penguin. Consider this newsletter as evidence that magic lottery tickets are figments of your imagination. There is only process. There is only daily reiteration. There is only shipping, and shipping is what you must do to achieve your wildest dreams.
/heading
Damn it. I always forget that not every word editor is as spectacular as Notion. How come every other word editor doesn't allow you to forward slash your way into headings? Come on, people.
A quick note from Paul: Hey Penguin is slowly becoming a newsletter fit for the weekend. So, I'll be experimenting for 2-3 weeks with publishing these every Sunday instead of Monday.
And finally, if you're new here, why not subscribe? I'd super appreciate it. Each subscription is a huge step for me to make this newsletter better every week.
Cheers, and here's to your good health.
Creativity + Self-Development
Running on Startup
What if you could achieve greatness automatically? What if —
I'll stop right there.
You can't.
Sorry, but you're shit out of luck. And though I'm about to use a technology metaphor to illustrate my point, I'm not some self-help installation wizard.
I start most of my weekday mornings with a 20 minute meditation followed by a short walk. I'm able to do this not because I'm a walking bottle of willpower. I've programmed my brain to run these programs - walking and meditating - on startup.
Like a computer, we wake up with a set of programs. These programs run in the background of our day. They dictate our lives. They inform us of what we'll read, see, do, and hear.
Too many programs overload the system. Drill 100 pushups. Write 500 words. Go for a sixteen mile walk. Climb a mountain. Listen to a motivational podcast while doing all the above. And get it all done before everyone else wakes up. This is the shortest path to burning out.
The question to ask yourself is: which programs am I running on startup?
Want to be a better writer? Write everyday, but write only as much as you want. Write about the subjects that interest you. Don't force yourself to write about ducks if you loathe the sight of a canvasback. But if you do love ducks, if you love ducks so much you could write about them everyday, then by all means! Write about ducks.
And if you'd rather not be a walking tub of lard, you don't need to do 500 pushups everyday. Just do enough strenuous exercise so that you at least feel accomplished enough to brag about it on Facebook.
The formula:
Pick a goal.

Pick a set of habits that help you reach the goal.

After 10 years of hard work, become an overnight success.
From the Community
Favorite Reader Comments
Last week on the podcast, I had a conversation with Arielle Kimbarovsky. A day after I released the episode, I got a message from Arielle. She told me her grandmother had listened to the episode, and had this to say about our conversation: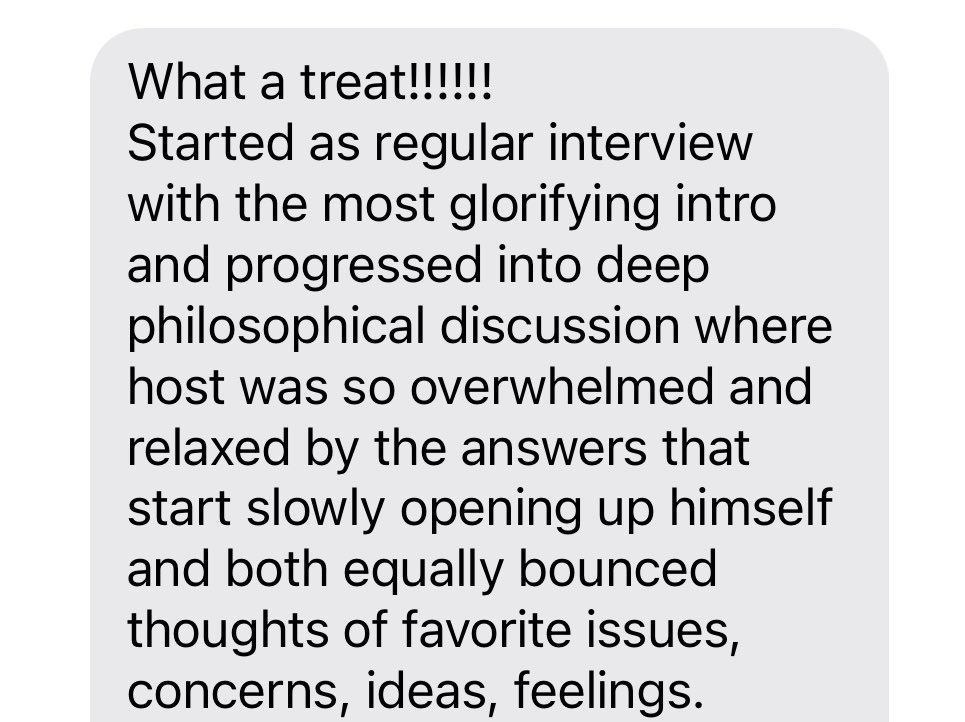 This is one of the most thoughtful and kindest comments I've ever received. Brilliance runs in the Kimbarovsky family, for sure.
Thank you.
Last week I talked with April Cote about my book, BUT I HAVE NO ORIGINAL IDEAS. She's a brilliant interviewer. Please spam her Instagram page and tell her that she needs to do more of these.
We talked getting writing and publishing on Amazon Kindle, how to get unstuck as a creative, creativity (of course), coffee, BIRDS, favorite authors, and everything else you'd expect from a conversation with me.
New from The Podcast
Readers of this newsletter are special. So special that they get their own exclusive look at upcoming episodes of the podcast. Here's a look at two episodes set to release this Wednesday and Friday: my conversations with Jamie Russo - the founder of Goodnote - and Uri Bram - the publisher of The Browser.
Jamie Russo: "We're coming into an era where you literally could get paid for walking."
???
PS: Does The Penguin Latte Podcast remind you of the excitement of fresh presents on Christmas morning? If so, please consider leaving a review on Apple Podcasts/Itunes. It takes all of 60 seconds (or 120 seconds if you're feeling extra spicy). By leaving a review, you're making the podcast 1% better. So, if 500 of you leave reviews, the podcast gets 500% better (if I have my math right). Plus, I love reading all of your juicy comments. Thanks so much!
P.P.S: Did this newsletter enlighten and entertain you? Spread the fun and insight by clicking the button below.